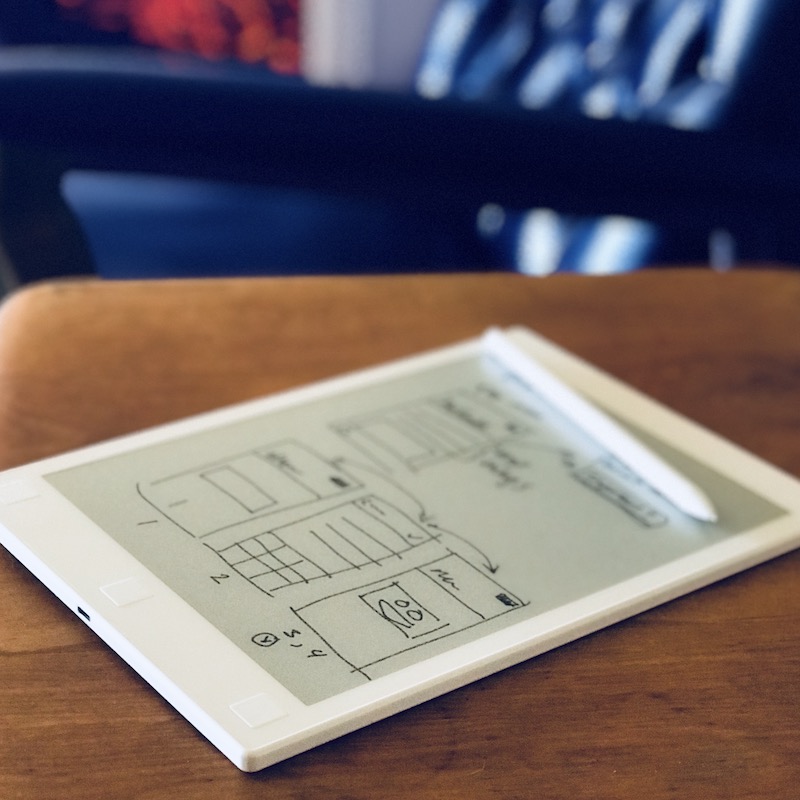 Around 2011, I was growing tired of not being able to search my notebooks. Wait, wait—that's too far back. Let's start with last year. Even though I've used Evernote since 2011, I periodically fill up a Moleskine or similar type of notebook with sketches, ideas, and meeting notes. Transferring to Evernote is just kind of a chore, and I wanted a digital solution that could integrate with my workflow.
The first solution I started considering was an iPad Pro and an Apple Pencil. There are two drawbacks for me: distractions and glass. Drawing on screens has a plate of glass between me and the screen. It's weird and doesn't feel right. Second is notifications, email, messages… I'm a sucker for distractions.
Glass and distractions are, however, things that can be overcome. I can turn on DND and get used to the Apple Pencil. But then I stumbled across a link or a video for the reMarkable. I was totally intrigued by the idea. I was also totally hyped at the idea of getting it at a low price by pre-ordering ($379). I did end up getting all whiny when it shipped two months late. It's like I've never paid attention to a Kickstarter campaign (they didn't use kickstarter, but whatever).
So here I am, a little past a month of usage. Now that I've bored you for at least 3 minutes of how I even bought one in the first place, let me tell you what I like.
Pros
Writing and drawing happen directly on the surface. Amazing.
There is almost no lag – I was surprised at how good they made it.
Wacom pen. Heck yes. I still wish that MacBook Pro trackpads would work with Wacom Pens, it would be so natural. Especially this one. It's so freaking perfect!
My primary use is low fidelity – initial concepts and notes. But you can do some higher fidelity drawing as well.
There's something really fun about being locked in to black and white.
Just leaving it on. And not having to wake it up every 2 minutes to see my notes. And they're there, just like a piece of paper, because it's e-ink. For a fairly extended time period, at least. You do have to wake it up once in a while, but we're talking a few times a day.
I can export as an ok res png or as a vector pdf.
It's very seamless to switch between the touch interface and the pencil. Seems like wizardry. Fingers don't work on the drawing areas, but do on buttons.
Dude. It's so light!
Of course, there are a lot of other little things that stand out here and there, but then I'd just be listing all of their features.
Cons
As with all products, I think there are some items in the software that can be improved:
It can take lots of taps to do things, because it doesn't have tool specific settings. Changing your pen size also changes the eraser size and pencil size.
Changing tools also loses tool specific settings – so if you have a favorite pen type, you have to remember to change to pen, pen type, pen size, then start sketching.
E-ink is not really suitable for swiping gestures, yet they are present in the interface. There's hardware keys for pages in a notebook and Ebook, but when you're looking at a group of pages, you have to swipe. Just because you can do a thing, doesn't mean you should. The hardware buttons only work when looking at individual pages, and they would be useful for much more.
I'm waiting on pins and needles for software updates to make it faster, and I'm hoping that software tuning can make the battery last more than a day on a single charge, and not need to reboot so often. Wifi and syncing seems to be the biggest drain on battery right now.
There are some funny UI choices throughout the interface that makes me want to go work for reMarkable and help them! Seriously, can I come work with y'all? Like tabs. In some places, active tab is white. Other places, it's black. In the same view.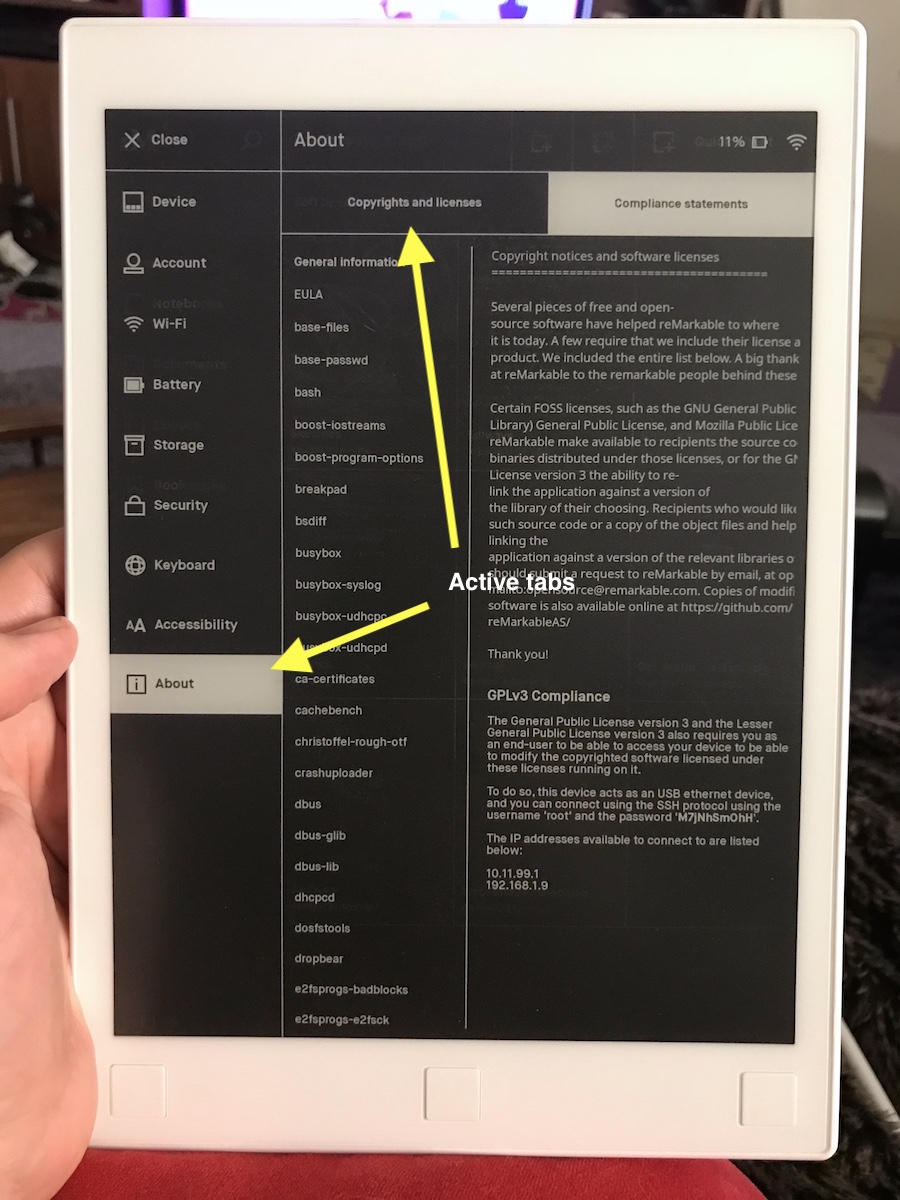 Wish list
Tool specific settings. I really want to switch to the eraser, and when I switch back to the Pen tool, it remembers which Pen, size, and color I was using, instead of defaulting back to the Ballpoint Size 1, Black Ink. Every time.
More variants with the tools. Currently, there's 3 sizes for pen, marker, and pencil. The jump from setting 2 to 3 feels a little extreme, maybe increase to 4 or 5 sizes?
I can't seem to find a favorite writing tool. I'm not a fan of the Ballpoint, as it feels like a really cheap and sloppy ballpoint and not a high quality gel ballpoint. The Fineliner has a bit of a pixelated feel to it when viewed at 100%, but it's nice and black, like a Copic pen. I switch between the Fineliner and the Pencil for my everyday use.
There are many levels of sensitivity (Wacom!), but the Pencil only appears to be able to make 3 levels of shading, no matter how hard or soft I press. Gimme dat shading y'all!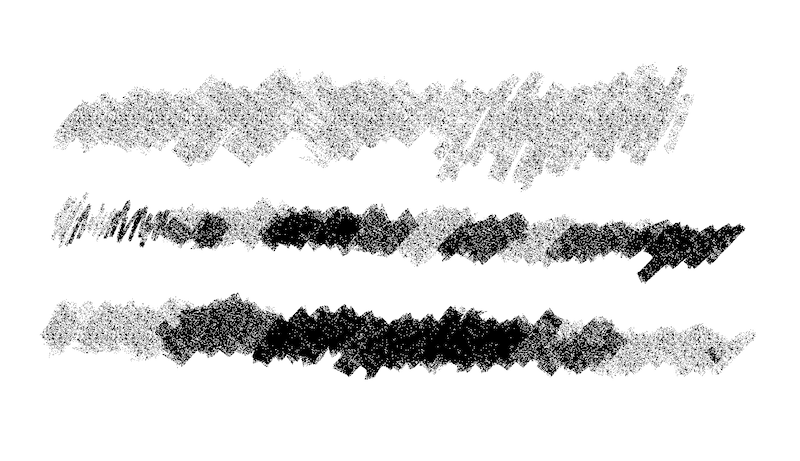 My verdict: this thing is cool 😎. People are always asking me "what is that?!" And it makes me feel a little bit of that awe and wonder that I've been missing lately, that there still is a place in our world for devices like this that have a dedicated and niche purpose.